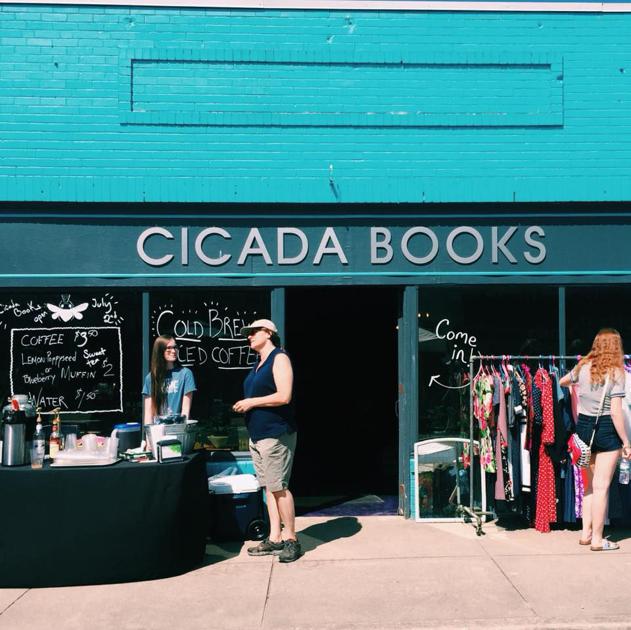 HUNTINGTON — A new book store and coffee shop has opened up on 14th Street West in Old Central City.
Cicada Books & Coffee is a locally owned bookstore with free wifi and a quirky, inviting atmosphere.
"We hope to be a fun gathering place and event space for readers, coffee fans, parents and kids, and the greater Huntington community," the business said on its Facebook page.
Cicada Books & Coffee is a general interest used bookstore carrying fiction and non-fiction with a large children's collection. Titles include genre fiction, classics and recent popular literature. Its coffeehouse offers hand-made specialty coffees, cold brew, and a selection of loose teas. They also sell locally made pastries, cookies and doughnuts.
Cicada Books & Coffee is open seven days a week, from 9 a.m. to 9 p.m. Monday through Saturday and from noon until 6 p.m. on Sunday.
For more information, call them at 681-378-3463.
SLIM CHICKENS: Slim Chickens in Ashland opened last week.
The eatery is described as a "fast-casual" restaurant chain based in Fayetteville, Arkansas. It will serve hand-breaded chicken tenders, chicken and waffles, wings with homemade dipping sauces, salads, sandwiches, an array of sides and desserts served in a jar, according to a news release from the Ashland Town Center.
"Ashland Town Center is excited to further diversify and expand our retail roster with Slim Chickens," said Michelle Adkins, the mall's general manager, said.
Slim Chickens has been operating since 2003. A Slim Chickens opened in Pikeville last November. Slim Chickens is open from 10:30 a.m. to 10 p.m. seven days a week. Its drive-through is open until midnight.
For more information, visit slimchickens.com.
DOLLAR GENERAL: Dollar General's newest store at 117 State Route 716 in Ashland is now open.
Dollar General stores offer national name brands and private brands of food, housewares, seasonal items, cleaning supplies, basic apparel and health/beauty products.
Seasonal products are displayed in the center of the store, departments are easily recognizable with visible signage and coolers are conveniently located at the front of the store, the company said in a news release announcing the opening.
"Dollar General is committed to delivering a pleasant shopping experience that includes a convenient location, a wide assortment of merchandise and great prices on quality products," said Dan Nieser, Dollar General's senior vice president of real estate and store development. "We hope our area customers will enjoy shopping at Dollar General's new location."
Traditional Dollar General stores employ approximately six to 10 people, depending on the need. Anyone interested in joining the Dollar General team may visit the career section at www.dollargeneral.com.
Fred Pace is the business reporter for The Herald-Dispatch. Send your business news and photos to [email protected]. You can also call 304-526-2729. Follow him at Facebook.com/FredPaceHD and via Twitter at @FredPaceHD.
This article originally appeared here via Google News